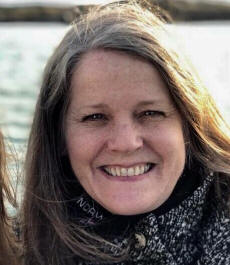 a pattern company featuring the exclusive designs of Karen Comstock.
Karen Comstock designs quilt patterns in a traditional American style informed by Scandinavian and Upper Midwestern motifs. She draws her inspiration from generations of craftsmen, craftsmen who often referred to themselves as "farm wives," women who may have never dreamed their scrappy serviceable patterns would, decades later, be admired for aesthetic reasons.
Her mother, born in Molde, Norway, taught her the Norse myths of Snorri Sturluson, inspired a love of all things Norwegian, and encouraged her to sew. Her father, also Norwegian, an electrical engineer and stained-glass maker, taught her the melodies of Edvard Grieg and the creaturely comforts of a Sunday night with limpa from the oven, dark rye with caraway, molasses, and a hint of anise. Her designs communicate a sense of familial place--the smell, the sight, and, above all, the feel of home.
Comstock was graduated from Wheaton College in Illinois. She followed her husband, Gary, to a job in Story County, Iowa, where she joined a bee. Working as a self-employed seamstress in Ames, she honed her manual skills repairing customers' ripped seams while spending her spare time studying the artisanry of generations of Iowa and Minnesota women. When a friend opened a quilt store and invited her to teach a block of the month class, she jumped in.
That was in the late 1990s. Since then, she has produced award-winning quilts, three dozen patterns, and traveled from Florida to Oregon exhibiting her work. Her designs have appeared in American Patchwork & Quilting Magazine and 100 Blocks From Today's Top Designers. She is, as her husband likes to say, a calendar girl; her Ohio Cabin table topper is featured as the full-page January illustration of the Better Homes and Garden Quilting Calendar 2003. "Patterns," a national exhibit devoted exclusively to her work, was on display at The National Humanities Center in North Carolina from January to June of 2011.
Comstock, a tireless promoter of traditional quilting, hit the ground running in 2003 after she moved to Wake County. One of the co-founders of the BeeFF's bee in Cary, she hosts meetings, amateur work days and group retreats in her home. She is an active member of three guilds: Capital Quilters', Pinetree, and Southern Wake. After years of perfecting her patterns with students, she launched her company, Quiltricks, in 2005. Known as a caring instructor with a warm sense of humor, she is eager to share her love of the craft with quilters of every level.
Please join the Quiltricks Facebook group


Karen's booth